After a few weeks of rest and preparation, I hit the road again to head to my first European racing experience. Going into this trip, there was a lot of unknowns, what my fitness level was after being sick for a while, how racing in a nine hour time difference in a foreign country would affect me, or where I stood against some of the fastest girls from all over Europe. These factors went through my head a thousand times, but what I thought about most was how incredible the opportunity to race in Europe would be and how excited I was to give it my all and represent the USA.
When I finally began the 17 hours of traveling to Switzerland, I was overcome with excitement, and luckily, I slept most of the way so I was there before I knew it! My trip got off to a rocky start. I was standing in the airport waiting for my luggage to come around, and I watched as everyone grabbed their bags and left and eventually realized mine was not coming. I went to lost and found and they did their best to help me out, but for now, I had to head to the hotel with no bike, no bag, and no idea when I would see them again. But, I stayed positive and enjoyed the rest of my first day there and how beautiful it was.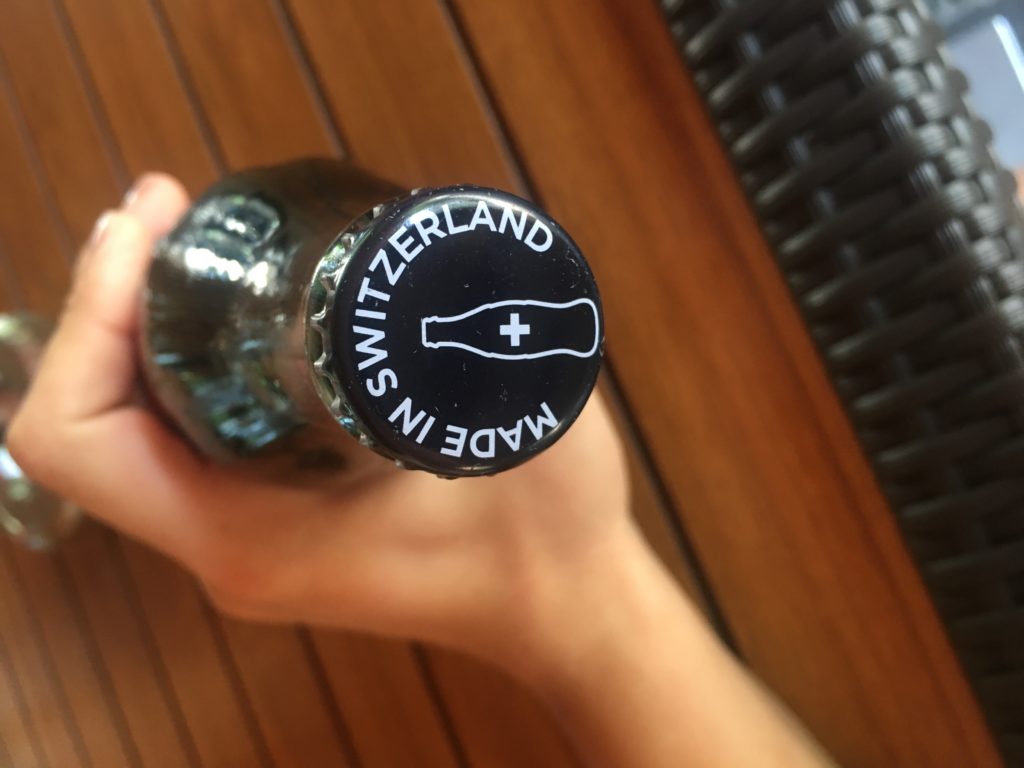 The next day, I came down to see that a bike bag and luggage had been dropped off! Although I realized the wrong luggage had been left, at least, I had my bike now, and I was able to borrow some shoes and a kit to be able to go do a pre ride on the course with the team. We spent that first day thoroughly going through the coarse and getting our lines dialed, and at the end of the day, I was more than ready to race on this incredibly fun course. That night, my bag showed up around 10:00, and I was feeling thankful that everything got to me so quickly. After another day of riding, it was almost race time. Surprisingly, that night, instead of feeling scared, I felt calm because I knew all I had to do was give it my best, and if I could do that, I would be happy with any result.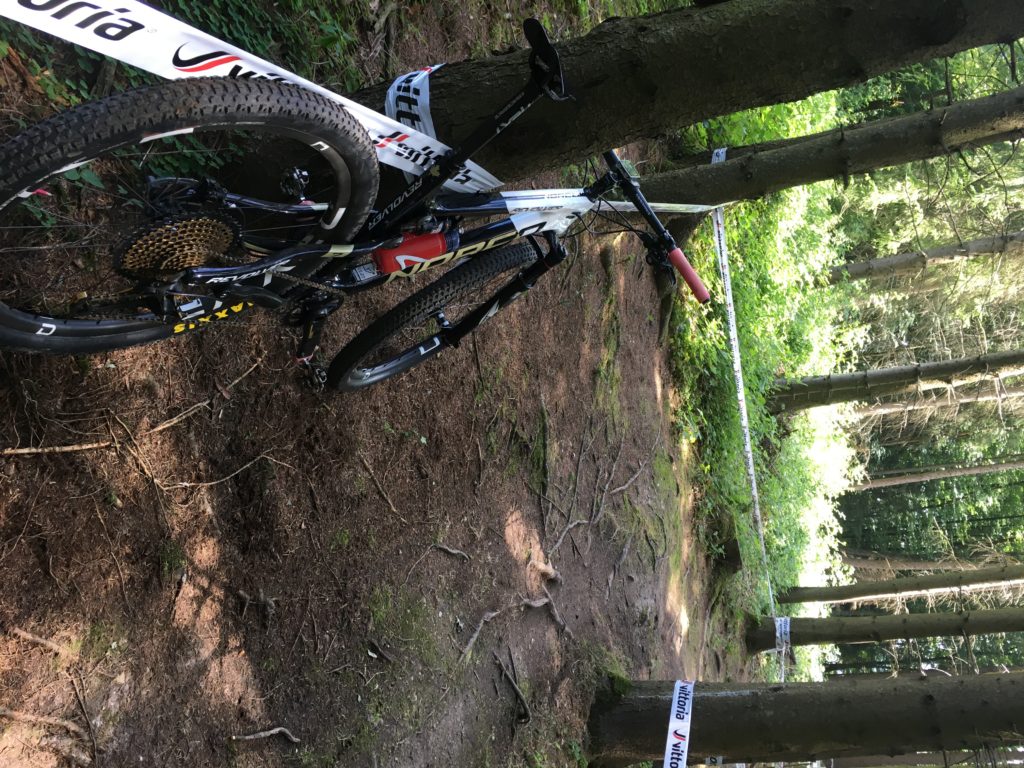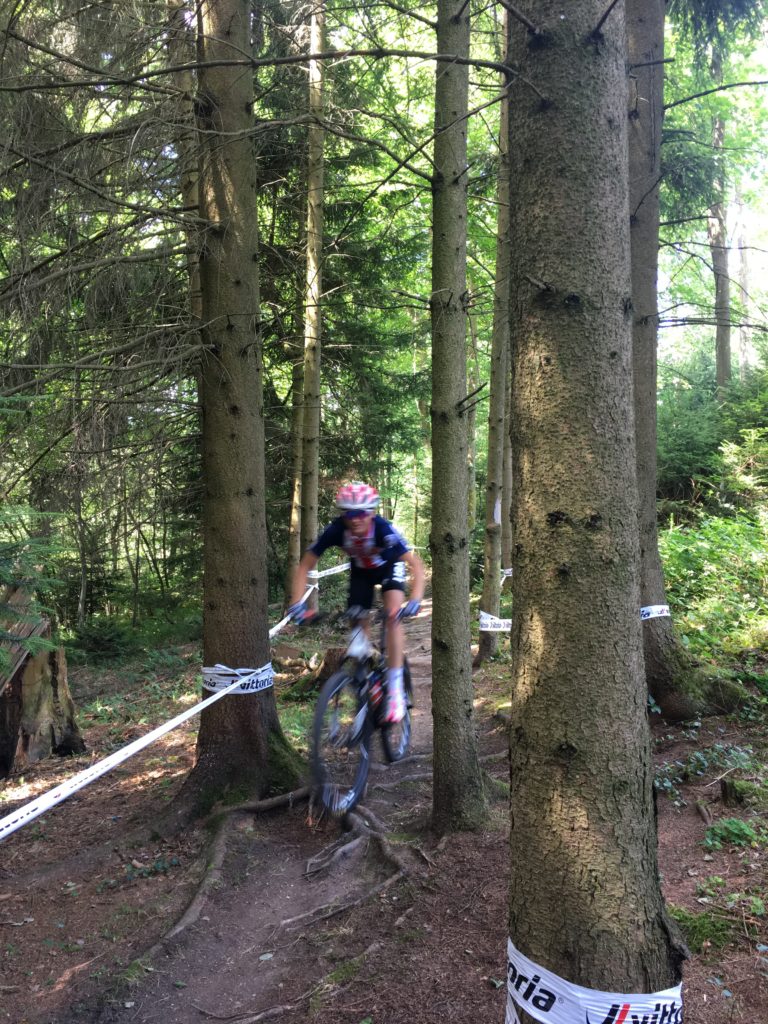 Luckily, the time change didn't affect me at all, I slept great the past two days and woke up the morning of the race feeling well rested. My legs felt good in my warm up. I wasn't sure how race pace was going to feel, but I was excited to find out. On the start line, I rolled up as the second call up. As I looked around at the start line, at all of the incredibly fast Jr women I was about to battle it out with, it was impossible to push my nerves away. The elite women took off in front of us, making my excitement grow even higher. I'm pretty sure I saw my heart rate hit 150. I was standing still. Soon, the announcer counted us down in German, and we began racing for positions as we began our first of five laps on the demanding course. I got a good start and headed up the first climb in second and moved into first half way up. Before we crested the top of the hill to head into the first technical descent, two riders went around me, and I sprinted to not lose anymore positions. Heading down, I could see first pull away.  I was close on second's tire, hoping for a place to pass, but the descent was narrow with sharp turns, so I was held where I was. Throughout the rest of the lap, second began to slip from me, still in sight, but I wanted to make sure I didn't blow up early on in the race, so I focused on staying smooth and holding my pace.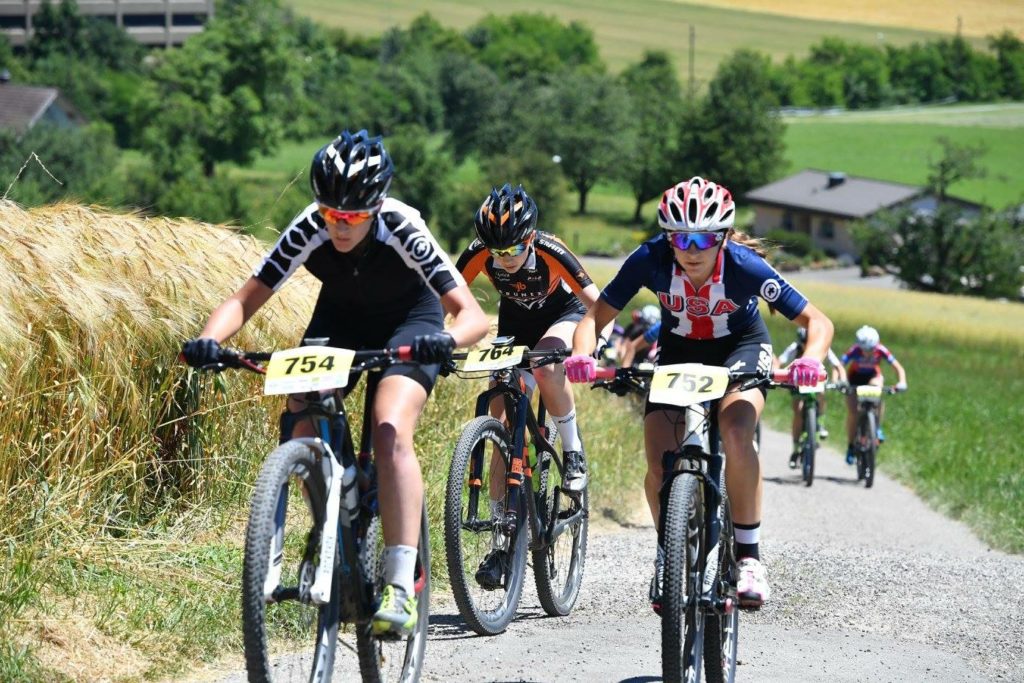 The lap went by fast and, before I knew it, I was back on that first climb again. This was the most challenging part of the course. It was a steep, paved hill fully exposed to the sun, and we were racing at the hottest part of the day. I could see second just in front of me here, but as the hill crests at the top, you head into the shade of the trees back and turn into a decent, so she would be out of sight for a while. It was a relief to be in the shade and heading down, but I knew I could not let off for even a second, or there would be five more girls ready to take over third.
As the race went on, second grew a lead on me, and I focused on holding my gap on fourth and fifth.  I had some time on them, but on some of the turns, I could look on the other side and see them not too far back. In the last two laps, my lead on the next pack grew to over a minute, and I was now completely alone. It was a lot harder to find the motivation to push with no one in sight to chase and no one I could see to run from. Finally, I was headed into my last lap, and as I made my way up the first climb, I told myself "one more time, give it all you have". I had a new found energy in that last lap and felt really good. Sprinting into the finish line, I crossed in third place, less than a minute behind second place! I couldn't hold back a smile; I was incredibly happy with how my first European race went.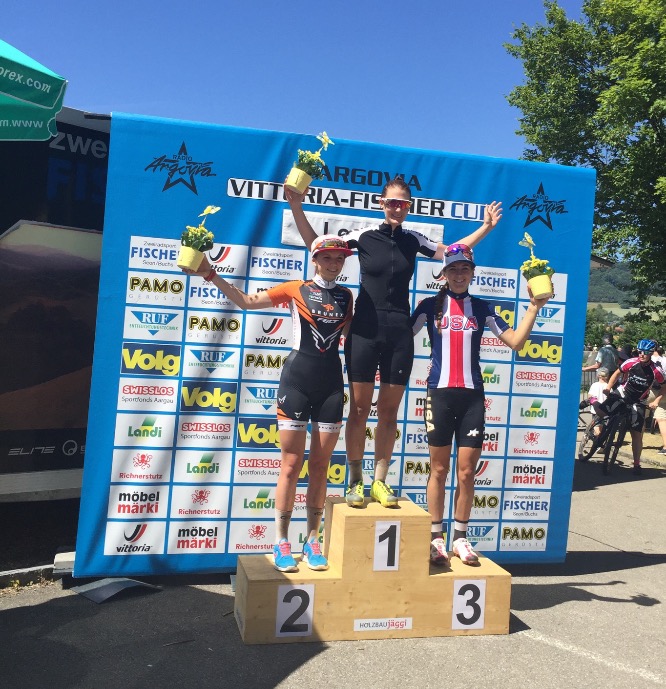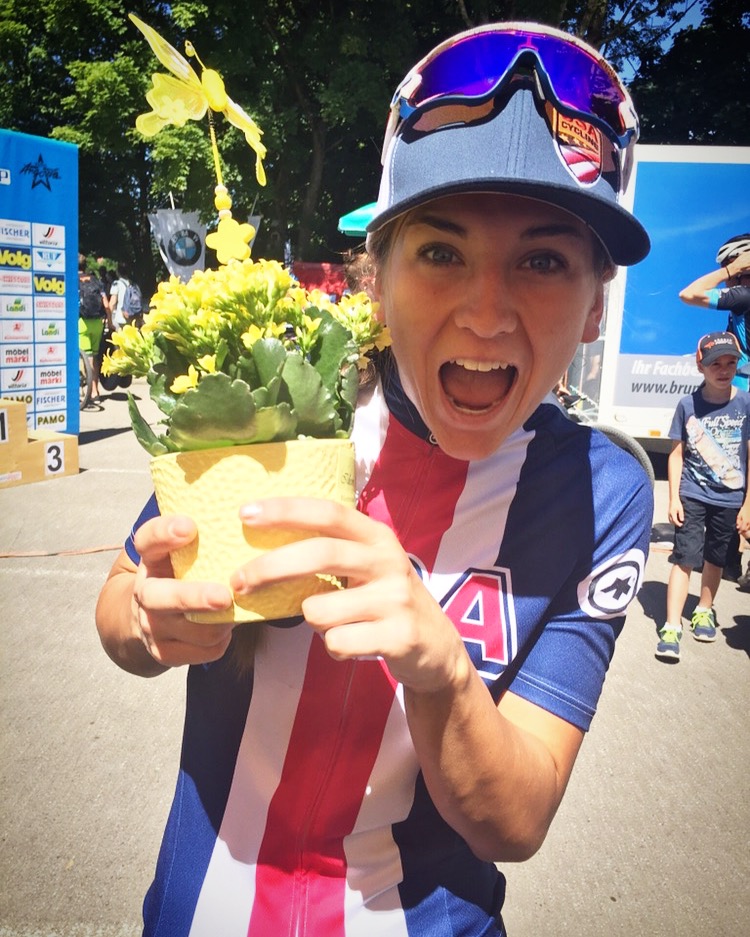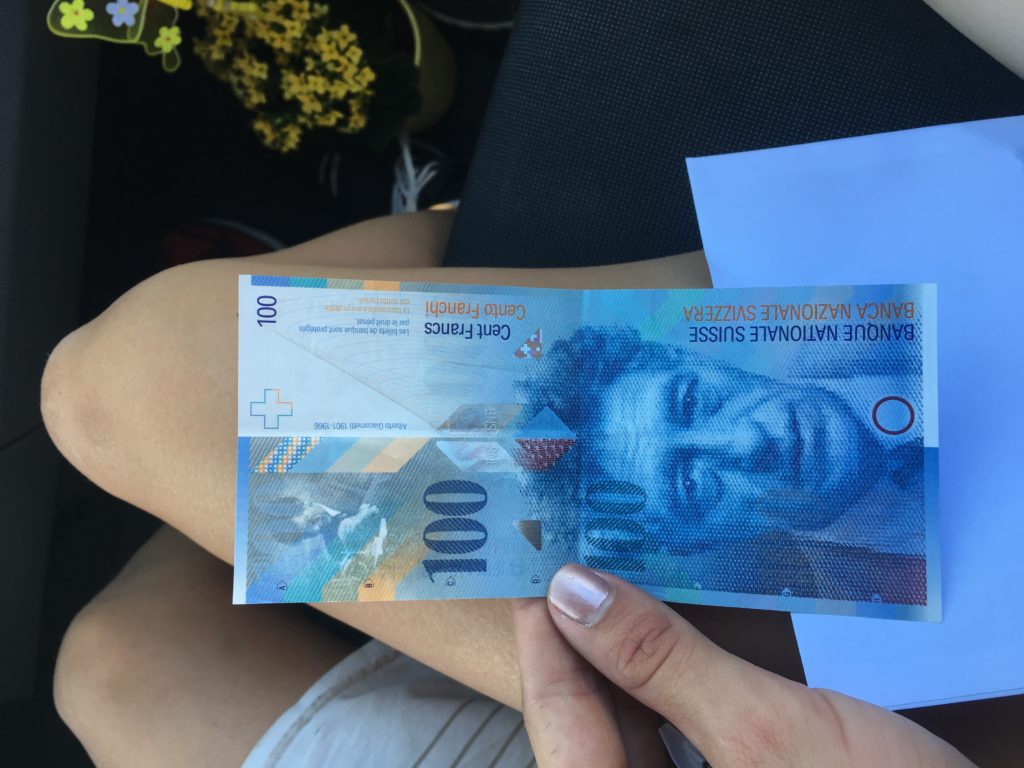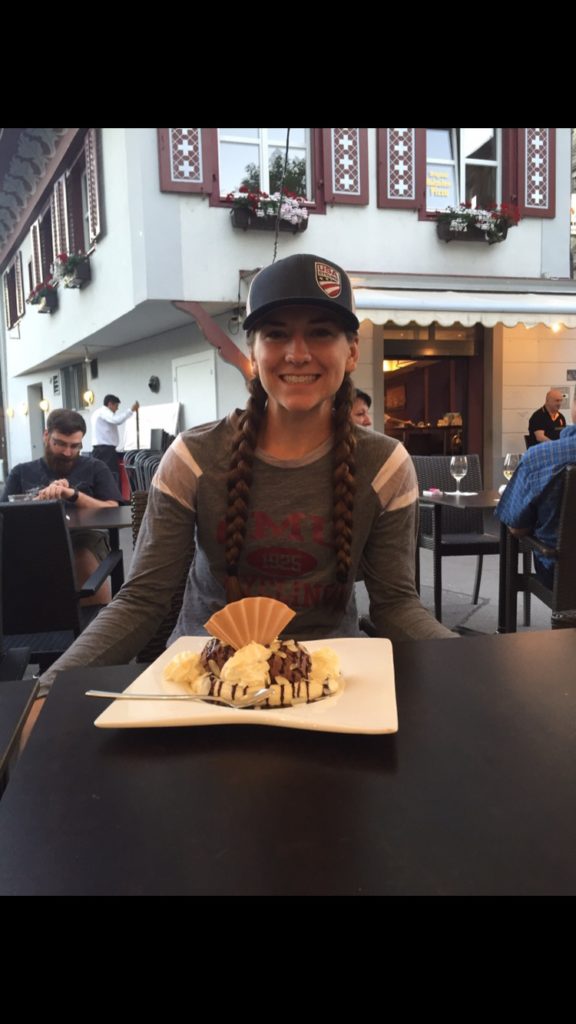 Going into the race next week, I feel good and motivated to continue working hard to improve! Now the team is headed to Germany for a few days of training before going to the next venue.